Private: Carolyn V Watson
Tall tales and true
09/11/2019 - 23/11/2019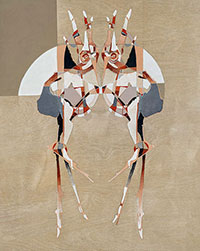 At once both intensely personal and universal in implication, Carolyn V Watson's sculptures and paintings search for a momentary revelation of the inexplicable. There are questions to be asked, riddles to solve. She describes the exhibition as 'a playful experiment in expectation. I want to activate the audience's curiosity by inverting the familiar and thereby offer new readings of the known.' The show's title alludes to the cryptic clues embedded in exaggeration and fables that can unlock a door into another awareness. 'Tales are open to interpretation, as are my works,' says Carolyn. 'In them are states of grey 'in-betweenness' making further investigation necessary. It's about aporia – internal contradiction, incongruousness, variance and paradox. The less you know about something the more power it retains.' Quoting William Kentridge she nevertheless counsels, 'I'm responsible for the suggestion, not the answer.'
Deliberately ambiguous and manifesting a characteristic 'strangeness', Carolyn's work propels the viewer into a visceral engagement. The experience is akin to entering a display of reassembled fragments unearthed from a paleontological dig. Seven most curious sculptures manifest a confluence of organism and artefact, species and symbol. Inescapably compelling in their occupation of real space, the bodies have been created from a conglomerate of materials including epoxy clay, taxidermy forms, egg-like porcelain spheres, light refracting tiny glass beads, handmade ceramic cocoons, as well as ornamental mat impressions and appliques.
Only one of the creatures is readily identifiable, that of a rabbit in the sculpture enigmatically titled follow (actaccordingly). 'The rabbit is an often used self-portrait trope in my work but each time there is something not quite right,' Carolyn divulges. 'In this case the white rabbit, although physically connected to its environment, its history and its genes, is scuttling on the spot as if trying to outrun itself. The stitched skin and openings indicate movement while embossed textural elements, conspicuous threading and tightly stretched surface leather signify an internal tension. What's not right? The size of the rabbit's form and its lack of facial features – it is without sight. The overtly large paws look simian and their number of respective digits differ. Handmade plates connecting the object to its base were created to have a fungi-like semblance. The question here is what happens when your past catches up with you?'
In the work, theysaid, two totemic-like forms appear conjoined as they perform under a mask of their own making. The entity sits atop a crumpled velvet rug that Carolyn defines as 'part security blanket, part scenario enhancement.' It is intended that the plush red fabric might also bring to mind a dismantled theatre curtain or flesh that's fallen away. 'Perhaps the work represents an artefact – an object of wonder – or are these two figures just a couple of grifters playing pretend?' she prompts. The underlying question for self and beholder is 'what would you do to be the other?'
In stark visual contrast, three elongated forms stand tall on spindly metal legs. 'Self-contained and without recognisable features they function as impassive observers,' comments Carolyn. 'What do the action of shadows look like?' is the cryptic query here. She relates that the melt (athreeactplay) sculpture presents a connection between those deceptively simple, attenuated pieces and the more solid, surface-driven works. 'This sculpture plays with scale and the interaction between protagonist and domain. Self-sacrificing, maternal connotations beg the question, 'What would you do to protect what you have?'
The evidence of process and the respect for the handmade is an integral component in all of Carolyn's works. One can feel the maker's energy in them as they embody life, time and decisions made. The sense of anthropomorphic intent and adaptation evident in the sculptures also occurs in her paintings on wood panels. Carolyn tells that the scale of the panel paintings is the largest she has undertaken. Her dilemma was how to connect the surface with a series of micro-compositions and also maintain an intimacy that would link the imagery to the sculptural objects. A cohesive colour palette would be needed to tie all five panels together without compromising the distinctiveness of the individual pieces.
Carolyn begins with multiple linear tracings of collaged imagery sourced from her research journals. These drawings are subsequently enlarged and transferred onto a panel. Certain areas are blocked in with white gouache to provide a series of steppingstones that will suggest the piece's direction. 'The method is highly intuitive and relies heavily on the relationship between media and line,' she explains. 'As the painting develops, edits and alterations are made, every detail must simultaneously enhance and act as a quiet distraction. Inadvertently these panel works have developed a sculptural-like quality. Open areas, intersecting lines and patches of a flesh-like surface seem suspended, or anchored to their environs. The white wooden frame surrounding each of the panels serves to augment and extend the drama of the work beyond its confines.'
An interaction of medium and subliminal meaning, Carolyn's sculptures and paintings are not about answers but marking a moment. This remarkably creative, multidisciplinary artist's intention is to provoke enquiry and personal reflection. 'I extend an invitation to respond to the information overload that this exhibition presents. It's about finding a thread that will unearth more questions so that you might grow your own narratives,' she concludes.