Di West
Endless Summer
29/01/2022 - 12/02/2022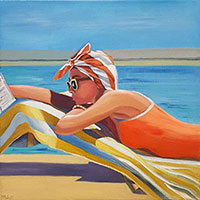 Many of us would acknowledge that we have an old box of memorabilia stored away that we promise ourselves to sort through one of these days. Di West's current body of works has been inspired by doing just that. Five years ago, she packed up and relocated from Brisbane to the Bay of Islands, New Zealand. Her family had moved from that country to Queensland when she was three years old and became the publicans of the heritage-listed Plough Inn Hotel in Southbank. Her grandfather was licensee of the now demolished Currumbin Hotel, all her school holidays were spent in that locale.
West relays that it was 'lockdown' restrictions that gave her the impetus to finally organise a collection of old family photographs. 'I came across several pics of my dear mother as a young woman attired in swimsuits. She was always very glamorous and although it would be too emotional for me to ever paint her, those snapshots did inspire me to research images from that era – the glamour fifties! It was a time of such elegance, grace and style. I felt a real need to capture its moments.'
During her online investigations, two fashion photographers in particular attracted West's attention: George Hoyingen-Huene with his black and white images and Elena Iv-Skaya's vibrant, colour-saturated studies. West imparts that she was essentially drawn to the strong design aesthetics evident in their photographs of swim-suited models, where the principle of 'less is more' prevailed. It was a talent that earned them cover shots in the prominent fashion magazines of the day, including Vogue and Harper's Bazaar.
The 'holiday-attired' women depicted during the buoyancy of the 50's Post-War era engendered thoughts of a life free from constraint and angst – that of an Endless Summer. Emblematic of optimism, growth and hope, summer is traditionally a favourite season. 'I love the idea of an endless summer with its warmth and soft breezes, cicadas at day, crickets at night, and the seaside excursions that wash all cares away,' muses West. 'I borrowed the title of the exhibition from the iconic c.1966 American surfing documentary.'
A sense of languor imbues the exhibition's paintings. Their small size and imagery have the redolence of postcards from a bygone era. Wearing colourful swimsuits, her stylish young women are posed beside pools and blue-water vistas. Compositional factors are always a consideration. The work Hemingway is a notable example of such. Stretched upon an inclined deck-lounge, the subject is wholly absorbed in a novel by the popular, contemporary writer. The book's extension beyond the picture plane perhaps signifies the unrestrainable flight of imagination. Oblique stripes in towel and knotted headscarf disrupt the horizontals of the environs. Complimentary to the blue of sky and water, the orange of her swimsuit amplifies the setting's vibrancy.
Other works portray women as cognisant of their milieu, some seemingly disdainful of onlooker intrusion. In the painting Vanity, a female in an anomalous bathing cap, given her heavy makeup, lies alongside a swimming pool. Her attitude is equivocal as she draws upon a cigarette, ashtray at hand. Despite the obvious self-assurance, West reveals she named the picture after the cigarette brand, Vanity Fair. 'They produced pink and blue cigarettes, who knew that!' she exclaims. 'However, my paintings are not meant to tell a story. I am not an illustrator,' West informs. 'I'd prefer the viewer experience a visceral engagement with the works and create one's own narrative.'